It was a night that was a nightmare in itself, it was pouring and very humid out; let's just say we wasted no time grabbing a taxi. Rolling up to the front door of Nightmare New York the sounds of casual banter, distant screams and music filled the air, sort of sounded like a bar. As we crossed the threshold of the double doors into the main foyer we took note that majority of the patrons waiting in line were adults. This pleased us because we knew that what we were about to experience was intended for mature audiences only. With that being the case we knew there would be no teenagers acting a fool or games once inside, you know those people who like to entertain the rest of their group by running and acting like what their experiencing is real... SMH! Given the mature atmosphere we were eager to begin our walk, Author E. L. James put it best, "My inner goddess was jumping with glee!"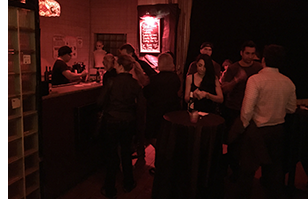 After grabbing a Stella and snapping a few photos we made our way to the VIP line and waited for our nightmare to begin. Wait, before we go all review crazy on you let us clarify the Stella comment. After you grab your ticket you can either head straight to the line or you can enjoy an alcoholic beverage or a few before heading in. This just furthered our expectations of what waited behind the double doors at the head of the line. We loved this! It was the first place we have ever been to that served their victims alcohol. It sort of set the mood and to be honest was executed in a tasteful manner. Ok moving on!

The entrance to the attraction is a work of art boasting numerous scripts dictating historic stories of New York City, from roaches to Typhoid Fever it gives you a background on what lies inside. Then in the center of the wall overtaking the double door entrance was our greeting, "Welcome to Hell!" It displayed a level of creativity we haven't seen before. It was a preview of what we were about to experience. Before entering we were given the rules, had a red X drawn on our forehead to confirm the actors could touch us and someone at random was handed a disco ball necklace. Of course we knew this had some sort of connection to the maze but wondered where and how it would take place. It was time for a deep breath as the doors finally opened and we were ushered inside!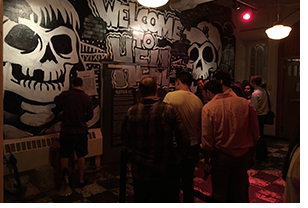 The atmosphere went from casual to dark, awkward and intense in a New York minute, no pun intended. This haunted house is unlike any we have ever experienced! It's not your typical startle style that we have come to know so well. Nightmare New York is an artistic and theatrical performance of evil in all its horrifying glory. The actors inside are of professional quality, never breaking character while they use you as their finger puppet in their world of hell, it really sealed the deal for us. Without the dedicated and talented actors inside we don't think this attraction would survive. While other attractions rely on detailed sets and the visual aspects of a haunted attraction to pull it off. NightmareNY uses the actors as the focal point for disturbing and warping your mind. The actors give it their all, there is no holding back. Profanity, extreme touching and heavy interaction are part of the game once inside. If you are squeamish, afraid of the dark, or have haphephobia, the fear of being touched, we strongly suggest you give it a go! Now come on did you think we would suggest otherwise!?

The only gripe we have is the length of the attraction... We didn't feel rushed at all, but when we hit the exit we wanted more! Of course New York City real estate isn't very spacious so we understand. It just would have been nice to experience some more of what Tim Haskill has floating around in his sinister mind. Considering this attraction is altered every year into a brand new story and creation, we're sure he has some things left behind!

Considering the level of originality and how unique this attraction is we don't recommend
it to people who like the norm. You must have an open mind once inside and you must yourself become part of the show. The actors love when you interact back, they feed your energy! So if you're looking for a traditional haunted house you might want to few blocks over. However, let us warn you, you will be very disappointed if you do.

Nightmare New York is without a doubt New York City's Premier Haunted Attraction! You are most likely asking yourself why? Well let us give you a little taste of what we experienced inside....!

Did you really think we were going to do that!? Of course we can't, it ruins the attraction for those who are reading this and heading there the next day! We all know that if we post a spoiler alert your little fingers will maneuver down and read everything we write. Therefore when the season is over we will update this review with a blow by blow outline of what transpired! We will tell you this; the disco ball necklace is used during your walk... So watch out if you are the lucky one who ends up wearing it, but that's all we're giving away! But until our review update we suggest anyone and everyone who is looking for a unique terrifying experience to get their rear ends to NightmareNY! You won't be disappointed. It's scary, disturbing, unnerving, awkward, artistic, theatrical and a hell of a good time! We said it once and we'll say it again! Nightmare New York is "New York City's Scariest Haunted Attraction!" Go now!